We have developed a number of promotional platforms based on booklets, catalogues and maps. Some have been short run, two to three years, others have run successfully for nealry twenty years. We have print samples available for viewing if you are interested.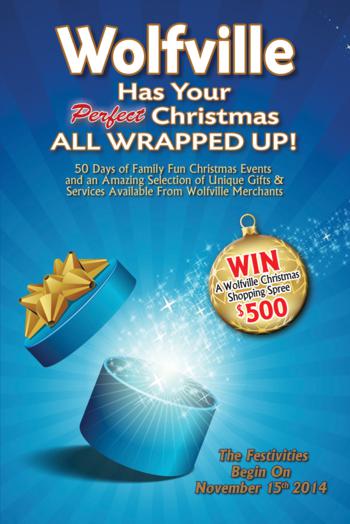 Wolfville Perfect Christmas Shopping Promotion
Developed for the business community of Wolfville and part of a $50,000 Christmas advertising campaign, this promotion ran very successfully for three consecutive years 2012-2014.

As part of a multi-faceted program, we produce a beautiful 36 page full colour shopping catalogue in both print and online versions. The print catalogue was distributed to 35,000 households accross the Annapolis Valley, while the online version was supported by a custom built contest driven website.

Print ads were also placed in provincial newspapers and local radio supported the promotion in daily informational blitzes. The promotion was extremly successful, with over 15,000 entrants yearly in the promotional contest to win a $500 Wolfville Shopping Spree. A contact list of nearly 50,000 email addresses was cultivated throughout the program and was used to promote Wolfville as a shopping destination year-round.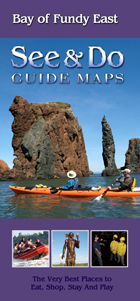 See & Do Guide Maps
In continuous print production for 18 consecutive years, See & Do Guide maps were adopted by the Regional Tourism Authority as the "Select Map Component" to go hand-in-hand with Nova Scotia's Regional Visitor Guides. They were so popular they quickly became the most requested-by-name guide map ever to be produced in Nova Scotia. We stopped producing the print guides in 2015 when tourism switched to online focused marketing.

Printed process colour on gloss stock and folded to pocket map size, these guides fit display racks perfectly and contained enough map detail to easily way-find around the entire province. Beautiful display ads featured great places to Eat, Shop, Stay and Play around the province.

We handled all aspects of marketing, ad creation and proofing with customer, payment collection, printing and distribution. We continue to offer this design platform for communities, theme parks, fairgrounds, campgrounds etc. that wish to offer their customers printed guide maps.


---

NSBBA Nova Scotia Bed And Breakfast Association
Sea & Stay B&B Property Locator Map
A design license of our popular "See & Do Guide Maps" product above, this membership based tourism map went into production in 2012 and ran for four years. It provided visitors to the province with brand specific information about quality, government inspected and approved accommodations around the province. Unfortunately, due to declining membership in the B&B association the product could no longer be supported and was discontinued.