Double-Sided, Full Colour, Glossy Rack Cards


We design Unique and beautiful Rack Cards for tourist bureaus and information racks. Our card designs get noticed, and have become very popular amongst tourism operators all over the province. They measure 4" x 9" and are printed process colour at 1200dpi BOTH SIDES on 14point coated stock. UV Gloss Coating is added so the colour won't ever fade. Includes complimentary design and proofing services. Direct delivery to the customer is included.

500 - $299.00
1000 - $349.00
2500 - $449.00
5000 - $549.00 Your Best Price - 11 cents a piece


---
Double-Sided, Full Colour, Glossy Business Cards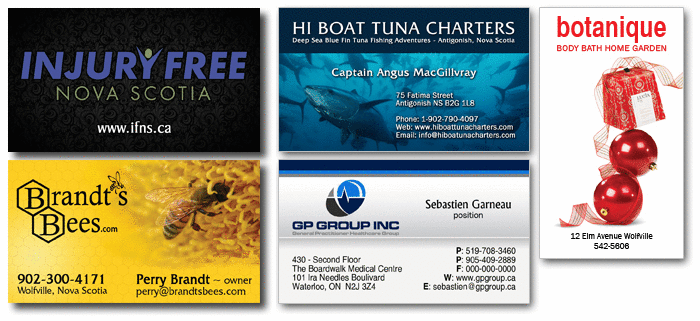 Standard 3.5" x 2" Business Cards. Printed Full Process Colour 1200dpi BOTH SIDES on 14point coated stock. UV Gloss Coating added so the colour won't ever fade. Includes complimentary design and proofing services. Direct delivery to the customer is included.

500 - $129.00
1000 - $179.00
2500 - $229.00
5000 - $299.00 Your Best Price - 5 cents a piece
---



LASER PRINTED Simple-Colour Business Cards


Need a little bit of colour to stand out, and have no budget or time for our full colour glossy cards? Get 500 business cards, colour laser printed single sided on 12pt coated stock. Full bleed colour right to the edges. Call or email us with your design specifications and we will provide you with a proof via email. Once approved your cards will be ready within 24 hours. Payment is due upon ordering. Please be reminded - These cards are NOT glossy and NOT hi-resolution like our full colour glossy cards listed above, but thay are fast and cheap!

Box of 500 - $75
---
Indoor & Outdoor Signage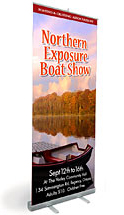 We can facilitate all your signage needs. Complimentary design service is included in all signage.
We can also arrange full vinyl signage services through one of our partner businesses.
Outdoor Metal A-Frame Sign 24" x 36"
Same image on both panels - $199.00
Different image on each panel - $249.00
smaller 24x18 size available too

Retask or freshen up your A-frame sign with a new set of full colour,
single-sided replacement panels with a totally different design - ONLY $129



Indoor X-Frame vinyl banner Sign 24"x63"
fiberglass pole frame - easy assembly in under a minute - banner attaches with grommets
Includes Carrying bag for everything including one rolled up banner print
Comes with one replaceable, full colour, single-sided, matte vinyl banner - $169.00

Retask and reuse your banner X-frame with an additional full colour, single-sided,
replacement banners with a totally different print for other promotions - ONLY $99

Deluxe Roll-Up Banner 33" x 81"
Comes with a lightweight swivel foot die cast aluminum base unit, 3 piece interlocking pole
a deluxe carrying bag and a single-sided vinyl matte banner installed on a spring loaded roller - $299.00
Note: banners are permanently glued to the roller system and are not replaceable.
---
Door Hangers, Magnets & Other Promotional Materials


Door hangers and fridge magnets are great tools you can leave behind on a sales call. We have a variety of products at unbeatable prices that will do just the job. Call for pricing today.


---
LARGE FORMAT Colour Poster Printing - UP TO 4 foot x 3 foot


We have two full colour wide format printer / plotters capable of printing near photo-quality images at up to 4'x3' in size. From window posters to banners to wallpaper, we can convert most images and print them as BIG as you need them. Printed on hi-quality, bright white, poster paper. Cost varies by size, but averages about $5 per square foot. A 4'x3' full colour photographic image would be $ 60 + tax. If you only need text - like for a giant "STOREWIDE SALE" sign, we can give you a better price because we use less ink and printing time. Call us for complete details.